To give a Mother's day experience or a Mother's day gift ? An experience or a gift?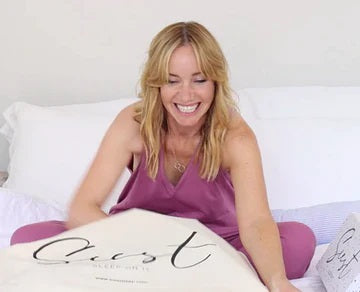 This weekend is really about celebrating the women in your life. Mothers, Sisters, Aunties, daughters, friends.
I'm always torn about which to give to my Mum or friends. I love the feeling of giving a luxurious indulgent gift that makes someone feel extra special. But also it's so nice to give an experience that they can remember. 
This is especially true now as it's been so long since we could give experiences. (Anyone else trying to cash in the voucher they had from two years ago?)  But I also know how lovely it is to get nice beautiful things. At Siest we combined beauty and usefulness. The Siest sleepers are now recommended by menopause specialists and physiotherapists and occupational therapists and sleep professionals.
Pillows for sleep anxiety
You can give a product that will help them feel less anxious at night, and will help them find the best sleeping position for back pain. It's a pillow for neck pain, can help with hip and leg pain while sleeping and even provide hip pain relief while sleeping. Also if people are sleeping with a pillow between their legs, this Siest Sleeper doesn't go flat. 
Pillow for bereavement sleeping problems
A gift that is great if someone is feeling a bit lonely because of a recent loss. This weighted soft sleep pillow is suitable for bereavement sleeping problems. Or to help them if they have extra worries because of a recent illness or diagnosis. 
Pillows for a beautiful bedroom 
The Siest sleepers are a sleep tool but importantly they are also beautiful. Why is this important ? Well not only will you make someone feel gorgeous and appreciated, you know they will use this more because it's beautiful. Check our gorgeous cooling material colours
Most sleep products that work at a deeper scientific level don't make you feel attractive. And this means they simply don't get used. 
A Siest sleeper uses deep pressure and proprioception. And you also know it will be used. It will be used because it doesn't need to be hidden away. It can be placed proudly on a beautifully made bed every morning, ready and waiting to help that special someone fall asleep. 
What we also love about giving is that it makes the giver feel great too. Harvard research has shown that in the gift givers brain you actually get more dopamine. You feel better too. How joyful. 
They say in addition to the dopamine receptors also the subgenual areas of your brain are activated. This is the part of your brain that is impacted by social interactions. 
Trying to decide to give a gift or give an experience - why not choose both. Give a Siest sleeper. 
Free shipping currently
About Siest Sleep: We are an Irish company, the sleepers are made in Ireland. 30 days to see if they work too.  Arriving in a beautiful sustainable Siest star box, with beautiful sustainable  packaging and a special hand printed laundry bag. This is a gift you can hug and also an experience. Experience less sleep anxiety, an experience of knowing when you are lying in bed at night that you are so very loved. It is the best pillow for sleep anxiety. When you give a Siest sleeper you show  that you know how hard it's been for so long and you want to wrap your mom or someone important in your life who you want to feel special.