***Free Shipping Ireland***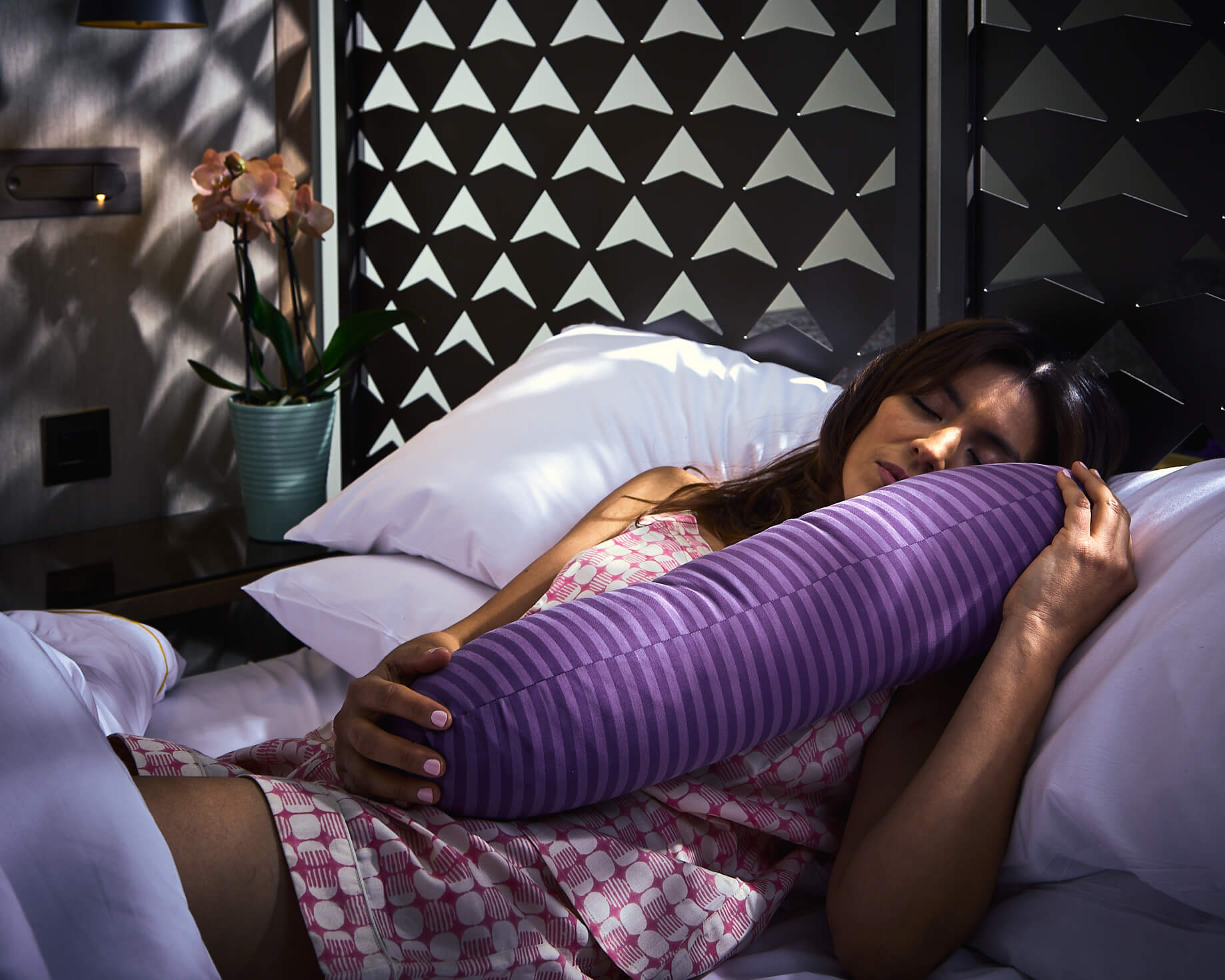 Siest Sleep
FREQUENTLY ASKED QUESTIONS
+ We offer 2 day personal courier delivery for Ireland
+ Approx 1 week for European deliveries
+ Not including weekends or Bank holidays
+ DPD tracking numbers are sent with all deliveries so you can choose the exact hour
Get in touch with any questions hello@siestsleep.com
Guaranteed Irish.
Made 100% in Dublin,Ireland. We are a women-led, Irish-owned Business. 
The sleepers are hand-made by our team in Dublin. Our raw materials are sourced in Europe. Our eco-friendly packaging is sustainable, recyclable, reusable and free from plastic. In our packages, we also include a Siest cloth laundry bag printed in Ireland.
SIEST Sleepers are a patented product design.
We are a Guaranteed Irish Brand.
They are weighted with Glass beads, wrapped in calico and double wrapped with a soft bouncy fiber.
We also use lenzing tencel, TENCEL™ fibers have been certified as biodegradable and compostable under industrial, home, soil, freshwater, and marine conditions, and can fully revert to nature. When you choose clothes or home textiles with TENCEL™ fibers, you are not just enjoying the benefits of a nature-derived fiber; you are influencing a better tomorrow too.
Proprioception and deep pressure therapy are what help you sleep. 
The sleepers are weighted, incredibly soft, and stay cooling and fresh to the touch. They weigh 1.5kg to 3kg. 
There are two sizes of weighted sleepers. Shorter and Longer.
We also offer a soft feel and a firm feel sleeper in both sizes. Children from 5+ prefer the Longer SOFT feel sleeper - they like to curl themselves around it. The science behind weighted sleepers is a combination of deep pressure therapy and proprioception (some call this the 6th sense).
Deep Pressure Stimulation (DPS) is firm but gentle squeezing, hugs, or holding that relaxes the nervous system. 
When you place the weighted product on your chest what's happening is deep pressure therapy. This is similar to the effect of a weighted blanket. This is useful to start the calming process. 
When it's on your chest, the weighted pillow, in fact, hugs you. You can calmly breathe and relax.  The extra feature and benefit of the Siest weighted sleeper is it also uses Proprioception. Linked to deep pressure but slightly different.
Proprioception is like a feedback loop from your sensory receptors in your body to your nervous system. The sleeper doesn't rely on only deep pressure alone.
Hugging a weighted sleeper awakens this extra, which some researchers call the 6th sense. It's incredibly powerful and gives you the feeling of relaxation and calm. In a nutshell, it's because it centres you straight away. It grounds you. 
Without you having to think about it. It's unconscious. That's why you feel calm.
When you feel grounded and centred your mind relaxes, and your mind can stop racing. Night time anxiety disorders and acute insomnia are reduced and you can find it easier to close your eyes and drift off.
Some people take up to a week to find the weighted sleeper useful. Other people can feel calm straight away. We are all different and sleep is complex. 
We can't imagine how hard this must be. Our mission is to help more people sleep better. The best step for a chronic insomniac is to consult a sleep consultant. As you can imagine the Siest sleeper cannot resolve decades of chronic sleep issues. However, we have had positive reviews from chronic insomniacs to say it helps them look forward to their bed and their sleep a little more. And has sleep association improvements. Which starts them on a more positive sleep journey. Please do get in touch if you have specific queries hello@siestsleep.com
Returns couldn't be easier. We offer a 30 day money back guarantee. 
Try your beautiful Sleeper in the comfort of your own home and if you decide it's not for you, we will be happy to arrange an exchange or full refund within 30 days from the date you received your order.
Please get in touch with us to discuss BEFORE sending a sleeper hello@siestsleep.com. or call + 353 (0) 860463131
++++++++
The following conditions apply: 
+ We do not cover return postage
+ We do not cover UK VAT, customs and Freight charges 
+ We cannot accept returns for any Siest products given as prizes
+ One exchange only permitted and no refund is allowed if you choose an exchange
+ Once we receive your sleeper, we will issue your refund
+ To ensure your refund, your sleeper must be returned in perfect condition
+ When returned by any method, all products must be sent in water protective packaging
We are a small local business
Please get in touch with us to discuss BEFORE sending a sleeper hello@siestsleep.com. 
There are two sizes of weighted sleepers. Shorter and Longer. We also offer a soft feel and a firm feel sleeper in both sizes. 
CHILDREN from 5+, prefer the Longer SOFT feel sleeper - they like to curl themselves around it  
Try the Shorter sleeper  if you want 
* Instant sleep comfort to calm a racing mind  
* For perimenopause & menopause glowy nights  
* To mind someone you care about - it's like sending a hug 
* To stop you scrolling on your phone at 3 am  
* To reduce sleep anxiety disorders
* Weights 1.5kg / Length 60cm approx  
Try the Longer Sleeper if you want  
* A longer body style weighted pillow  
* To reduce sleep anxiety  
* Currently use a pillow between your knees to aid comfort and support - this won't go flat  
* Want a full body hug to ease knee, back, or hip discomfort  
* To reduce and treat snoring and sleep apnea by side sleeping - place it behind your back 
 * Weights 2.5kg / Length 95cm approx 
Both are cooling and incredibly soft to touch
Both length sleepers can be placed between knees, behind your back, and under your chin. All sleepers are weighted. 
Soft feel: Feels as soft as a pillow. Useful for a racing mind and to help sleep anxiety. Feels like a hug. Instantly calming. Universal design for men and women and can be used from Age 5+.
Firm feel: Designed as a more robust positional device. Perfect for sore necks, hips, and backs. Place behind back to encourage side sleeping. This is helpful for sleep disorders such as sleep apnea. It also reduces snoring. Not recommended for children. For adults.
A Siest laundry bag to carry your sleeper will be included where possible with all non sale items. These gorgeous bags are sustainably made in Germany and printed in Ireland.
If you do not see your country listed email us at hello@siestsleep.com and we will figure it out with you.
Yes. The cover is 100% Tencel with an easy on/ off zip. You can wash the full internal sleeper at 30 degrees. Wash cover separately (30 degrees) Hand wash if possible. Do not use fabric softener.
Yes. This has been tested in many European and UK airports. At times the security will ask, what is inside?  Glass beads. But at all times it has been allowed through. Security can open the zip cover to check but will be unable to see the glass beads as they are wrapped safely in layers of fibric. 
You can't be. Sleep is complex. We know this sleeper won't suit everyone. BUT we offer 100% MONEY BACK GUARANTEE for 30 days, on the purchase price. We will cover the payment processing fees. Return postage is not included. One exchange per customer. Duty, delivery fees, customs, and/or VAT are nonrefundable for customers outside Europe. Contact hello@siestsleep.com to discuss ALL returns before returning.
UK main deliveries will be charged customs and duty on delivery by the delivery providers. See below for more details. 
Due to Brexit impacts starting on January 1st, 2021, orders shipping to the United Kingdom that are valued over £135 are subject to tax & duty as per local laws and legislation. When your sleeper has passed UK customs, you will be notified by our international courier partner, DPD. 
The amount owed is payable upon delivery of goods by DPD. The recipient of the products is responsible for all customs formalities for their export and import and will be required to pay any additional charges, including import duty, formal customs entry, taxes, levies, and other charges. These charges vary depending on the product type. 
The email you enter at purchase will receive a separate request for payment of these charges from DPD. Currently, the total additional charges are Approx Lollipop: £35, Wishbone £45. *Subject to change, depending on the product price. This is paid directly to DPD (and then the UK government) via their online payment system (They email you with a payment link) and goods are delivered to you after this payment. 
None of these charges are paid to or set by Siest Sleep. The product will be returned to Ireland as a result of non-payment. If you request redelivery back to the UK, this will be the responsibility of the buyer and the re-delivery cost will not be covered by Siest. The currency exchange is handled by your payment provider at the time of purchase. 
If you have any questions please get in touch and we will always do our best to answer them. 
We recommend it from age 5+. This is not a toy. The glass beads are secured inside layers of fabric. They are also wrapped in protective layers of soft fabric. Only the SOFT feel is recommended for children age 5+. Children usually prefer the longer body sleeper
Yes, this is a great product for the over 70's. The shorter sleeper is approx 1.5kg and the longer body sleeper is approx 2.5kg and feels very comforting. Start with the SOFT feel shorter sleeper if you are unsure which one is best.