Winner Network Ireland Emerging New Businesswoman 2022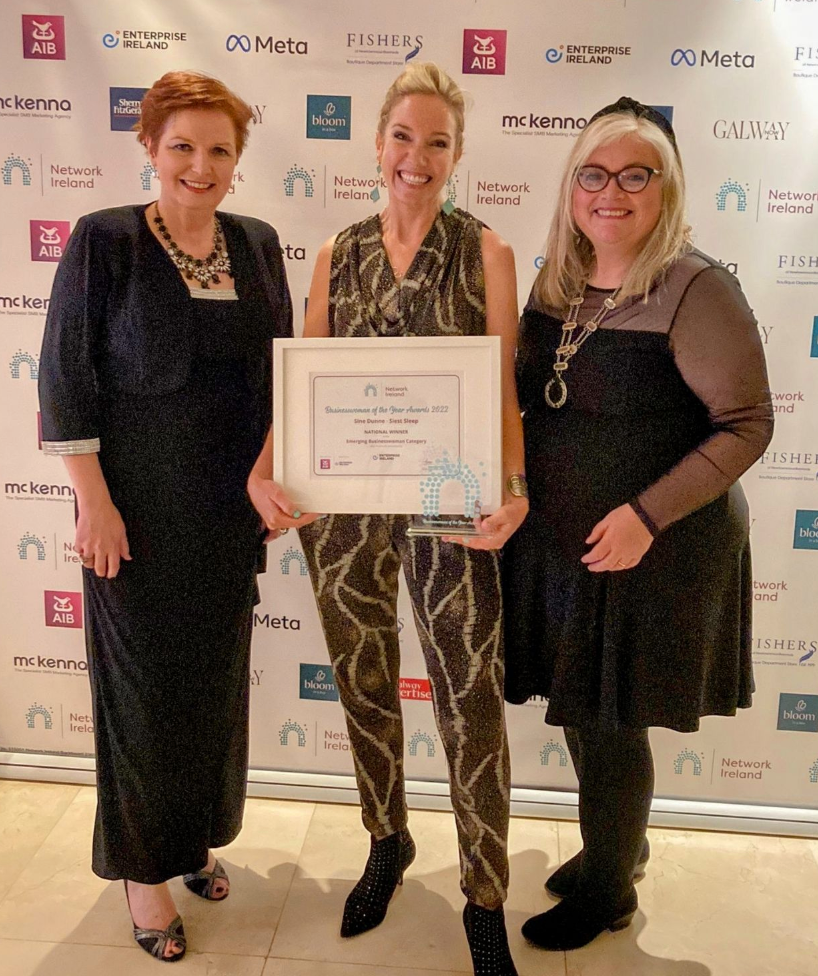 Delighted to share that Síne Dunne, has been named national winner of Network Ireland Awards for Emerging New Businesswoman 2022.
Helen McAuliffe representing Enterprise Ireland presented the award to Síne on the night. 
The results were announced during the business organisation's annual conference in Galway at the Salthill Hotel on Friday 7th October 2022.
A 300-strong audience attended the gala event which was hosted by Mary Kennedy.
A total of 350 applicants put their names forward for this year's awards through 14 regional branches of Network Ireland. The award winners were selected from 71 women on the awards shortlist.
Established in 1983, Network Ireland organises up to 200 events for members.
SIEST Sleep won the Nationals! Network Ireland
Emerging businesswoman of the year 2022

Special thank you to Ed and Remi. I love helping people sleep. I'm driven by it. And to have you both bursting with pride and cheering me on is everything.

Last few days have been a wave of inspiration, emotion and energy in gorgeous Galway.

The conversations and discussions at the conference were deeply interesting. World still powered by great data and money but what is shifting is how often people talk about intuition, empathy, joy, vulnerability and purpose.

Yes to this.

Sharon Keegan your speech will stay with me for a long time.

Grateful to Enterprise Ireland and AIB for your support and recognition.

And specific thanks to the Network Dublin - Women's Business Network branch Carmel and Sarah Naylor McNamee

Network Ireland led by Noreen McKenzie you really put on a show. And I'm so proud to be part of the network. Thank you.

And to my amazing customers. Thank you for trying a new brand and a new type of sleep product. Our product is patented now and awareness is growing. Here's to better sleep. 💚